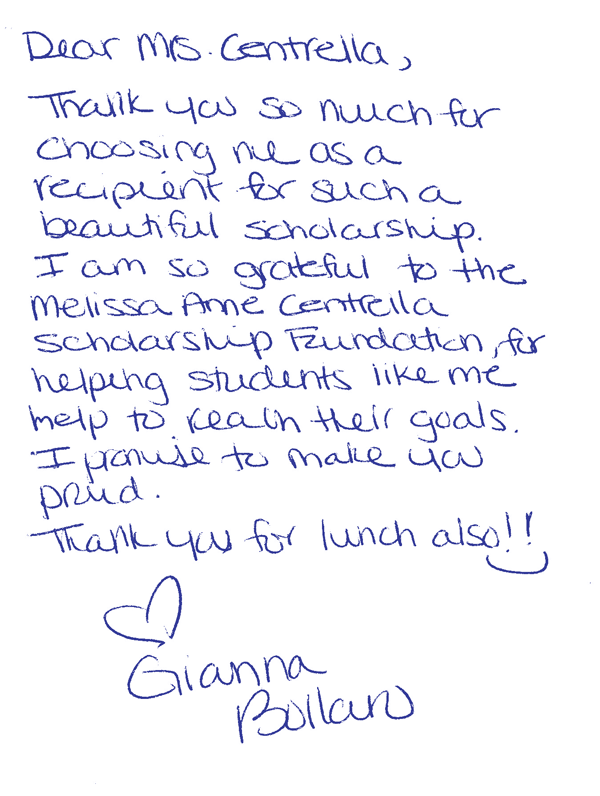 some more words of appreciation...
Dear Mrs. Centrella,
Thank you for the scholarship opportunity. I was very happy and appreciative to learn that I was selected as a recipient of your scholarship. You have lightened my financial burden which allows me to focus more on the most important aspect of school, learning. Finally, your generosity has inspired me to help others in the same way in the future.
Sincerely,
Sarah Ansari
Dear Ms. Centrella,
Thank you so much for choosing me as a recipient for such a beautiful scholarship. I am so grateful to the Melissa Anne Centrella Scholarship Foundation for helping students like me help to reach their goals. I promise to make you proud. Thank you for lunch also!!
Gianna Bollaro
Dear Claire,
Thank you for selecting me to be a recipient of the Melissa Anne Centrella Scholarship. Your generosity and enthusiasm for what you do is inspiring. Melissa sounds like she was an amazing girl and I'm very sorry that I never had the opportunity to meet her. I hope that in the future, all illnesses, including Melissa's, will become a thing of the past. I also hope to play a role in finding a way to eradicate these illnesses.
Thank you again.
Sincerely,
Alyssa Rosa
Dear Mrs. Centrella and the MACS Foundation,
Thank you so much for the generous gift. The money will help me pay for all of my books and supplies and even pay part of my tuition at Rowan University School of Osteopathic Medicine. What an incredible feeling it is to say that. I will spread the word and mission of the MACS Foundation and of Melissa's Hope, and will treat my future patients with movement disorders, including dystonia, with that extra love and care I've learned from hearing you speak about Melissa. Thank you again and I wish you and the entire foundation all the luck and success you deserve.
Sincerely,
Keith Anacker
Mrs. Centrella,
I would like to thank you for choosing me as one of the scholarship winners. I promise to continue to give back just as you have done in your daughter's honor. It was very obvious that Melissa was surrounded by love and made a huge impact on others.
Once again thank you,
Matthew Molnar
Dear Mrs. Centrella and Members of the Melissa Anne Centrella Scholarship Foundation,
I am honored to have been chosen as a recipient of the 2015 scholarship. Unfortunately, I was unable to attend the brunch, as I am currently completing a clinical rotation at the Ohio State University. I am sure that day was lovely; I wish I could have been there! Thank you for your generosity toward those of us going into the medical professions, and thank you for this scholarship which will help me pursue my career and dream of physical therapy.
Jessica K. Rector
I wanted to thank you for such a lovely afternoon the other afternoon. You are truly an inspiration and I am grateful for your generosity. You do so much good for the people around you and I hope I can someday make as much of an impact in my community as you have. Please keep in touch.
Adriana Lopez
Dear Claire Centrella & Board of Directors,
I just want to thank you for the honor of receiving your scholarship. As I embark on the next step of my journey -- medical school -- I will not forget the help you've given me. I so enjoyed meeting you and the other recipients at the Brunch and what's more, it really felt like being a part of something much greater. Thank you for welcoming me into your family and encouraging all of us to remain determined to make a different by paying it forward.
All the best,
Jordyn B. Tumas
Dear Mrs. Centrella & Family,
I would like to thank you for choosing me as a recipient of the Melissa Anne Centrella Scholarship. I am truly honored to have been awarded a scholarship that has such a special meaning. My family and I were very touched by the stories of Melissa and the dedication you show in promoting the Dystonia Foundation and supporting those in need. I hope to be able to touch the lives of others in such an influential way. Thank you once again for this recognition and scholarship which will be gratefully applied to the cost of my education. My family and I hope to see you again at future fundraisers.
Sincerely,
Jessica Marinas
Dear Scholarship Foundation,
I would like to thank you from the bottom of my heart for everything you've done, not only for me but for each scholarship applicant. You took your time to thoroughly read each scholarship application, and select the students who best embody you and Melissa represent. Melissa was an amazing girl, and I'm honored to be held in a similar regard to her. Once again, thank you; I'm overjoyed that you think so highly of me.
Sincerely,
Sara Berroa
Dear Mrs. Claire Centrella,
I am writing to thank you for the scholarship. I was appreciative to learn that I received your scholarship and am honored to receive a scholarship in memory of such an amazing person, Melissa.
Also, thank you for the wonderful brunch for all of the scholarship recipients. It was incredible to hear you speak as well as to connect with other students heading into the medical field.
In the fall, I will be attending the College of New Jersey as a Biology major. After 4 years I hope to attend Physical Therapy school and obtain my doctorate. I have volunteered in multiple settings and I love that Physical Therapists get to help people reach their goals and I cannot wait to be able to do that as my job. This scholarship has brought me one step closer to reaching my goal of doing that.
I am also writing to tell you how much I appreciate the incredible person that you are. When encountering hard times, most people could not have risen to the occasion like you have. Your compassion and drive to "pay it forward" has inspired me to pass on your generosity and give back to others. I hope one day I will be able to help students like you have. Thank you for the scholarship and everything else you have done.
Sincerely,
Jessica Wienckoski
Melissa A. Centrella Scholarship Fund,
Thank you so much for choosing me to get this award. I am beyond grateful and I really appreciate your generous offer to help me pay for college.
Many blessings